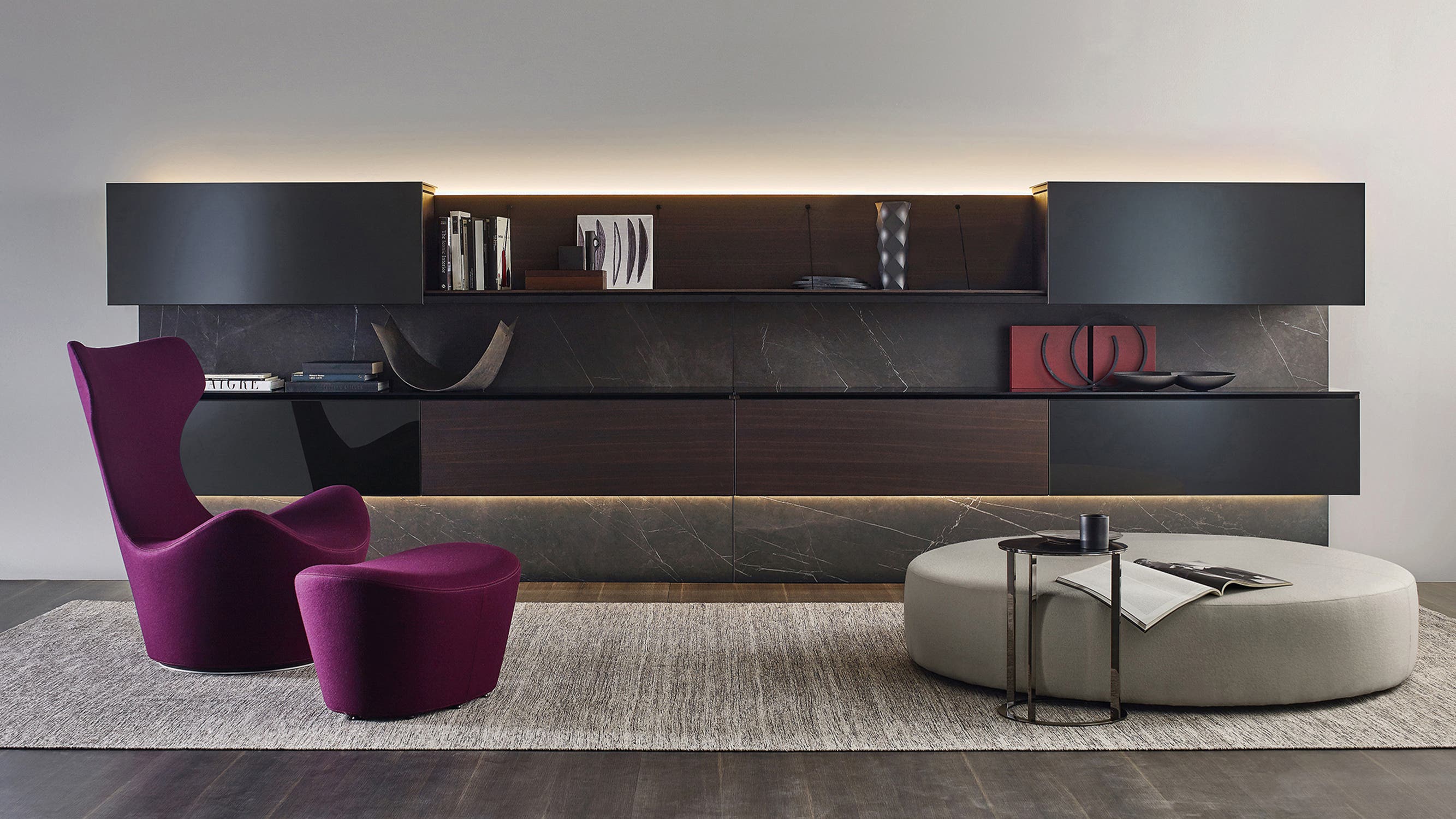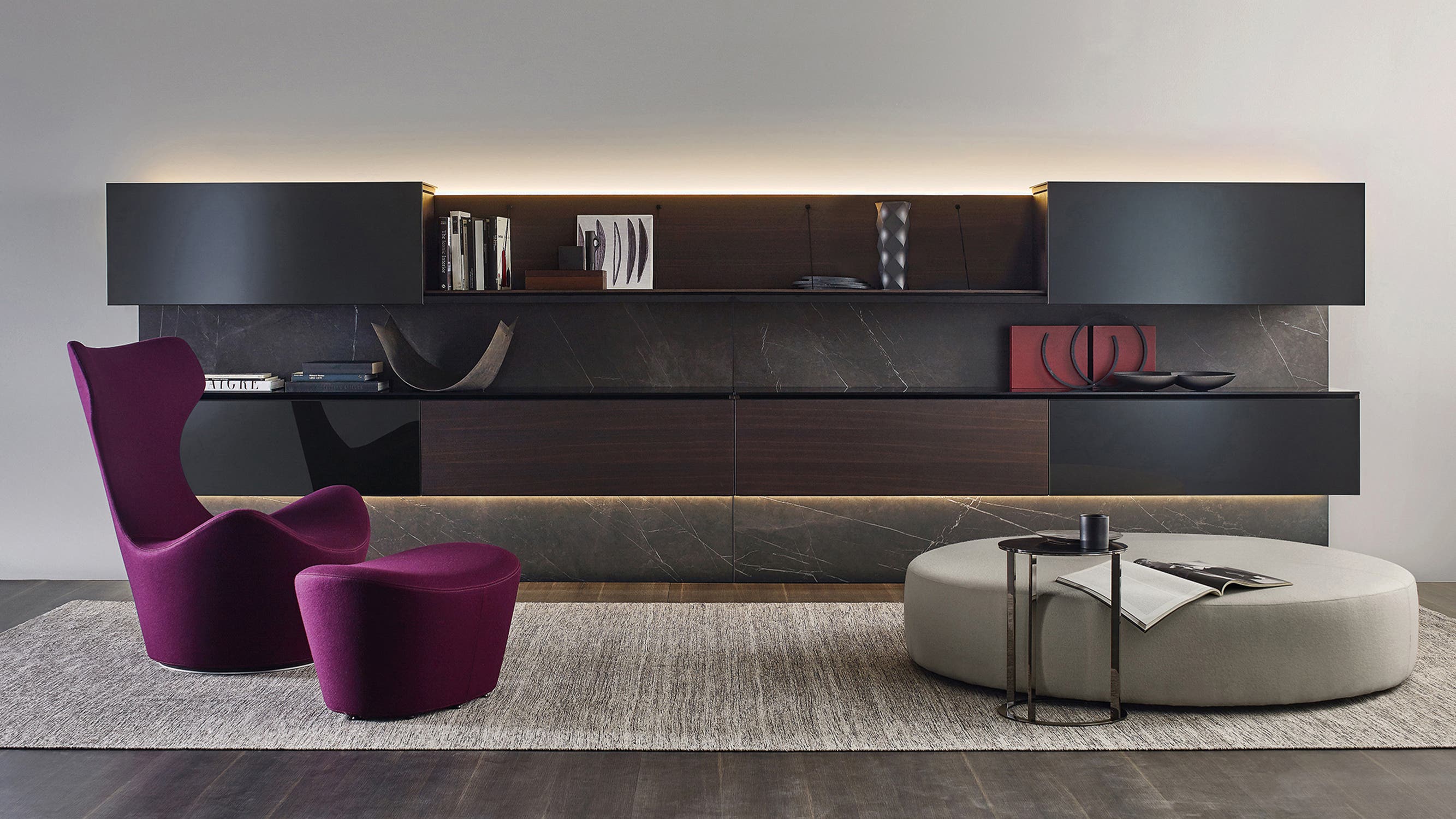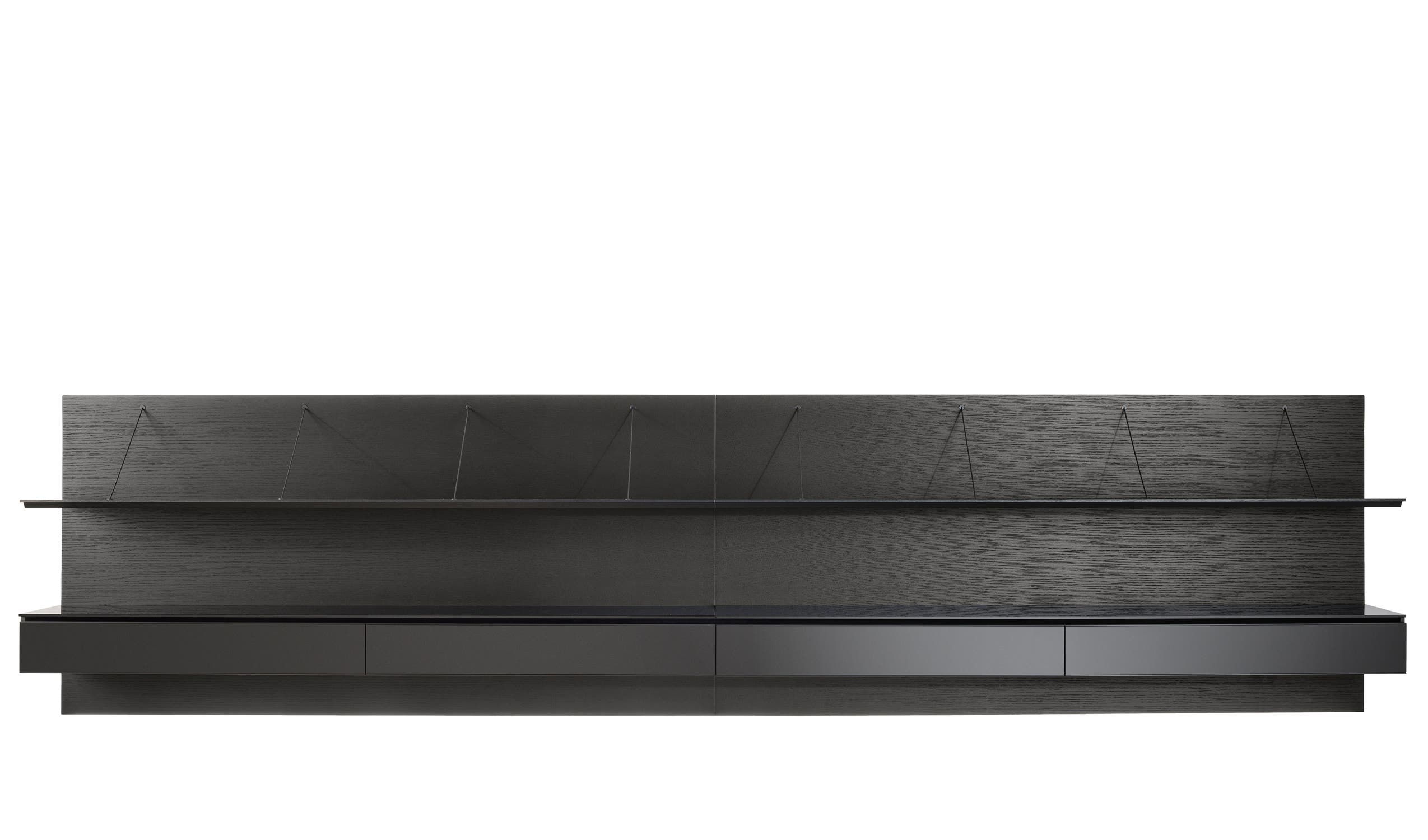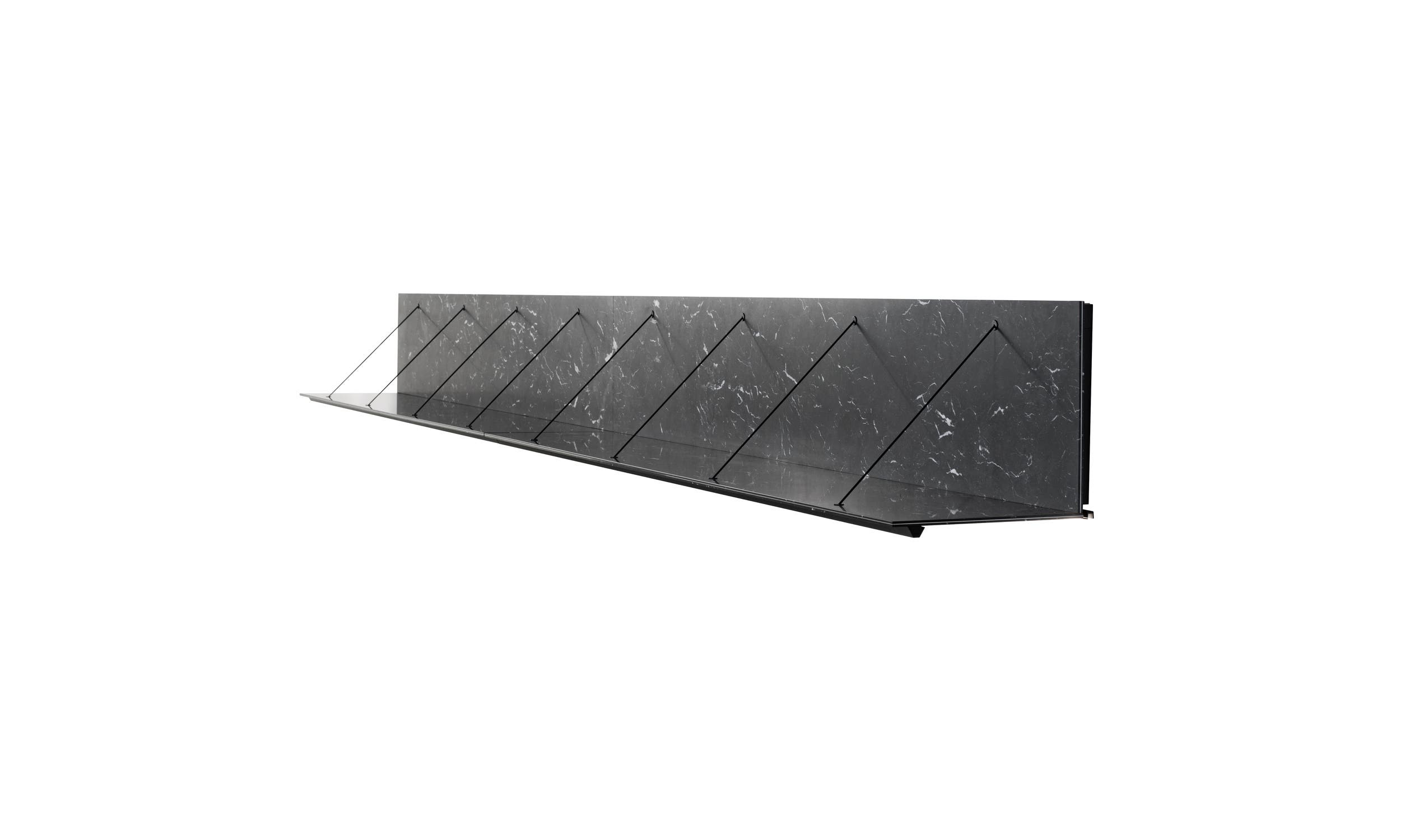 Description
Anliegen von B&B Italia ist es, Objekte zu entwickeln, die die Bedürfnisse des modernen Wohnens interpretieren, wobei stets großer Wert auf Forschung und technologische Innovation gelegt wird. Das Pab-System des Studio Kairos hat sich aufgrund seiner vielfältigen Kompositorischen und funktionellen Fähigkeiten Bewährt, Kombinationen offener und Geschlossener Körper, die ihm eine präzise Identität verleihen. Durch Regale und Home-Video-Paneele ergänzte Hängeschränke und Bodenelemente eignen sich zur Einrichtung sowohl von wohn- als auch von Schlafbereichen und sind die Richtige Antwort auf unsere Ansprüche nach Zweckmäßigkeit und Ästhetik. Ein wichtiges Gestaltungselement dabei sind die Ausführungen. Durch verschiedene Kombinationen verändert sich der Stil, wobei die planerischen Eigenschaften unangetastet bleiben. Eiche hell gebürstet, Eiche schwarz gebürstet, Eiche grau, Aluminium, satinierte oder glänzende Lackierungen in fünfzehn Varianten und Glas in den Ausführungen reflektierend bronziert, reflektierend bronziert lackiert, schwarz oder perlweiß: diese große Auswahl an Farben und Ausführungen ermöglicht, zusammen mit einer Vielfalt von Elementen, individuelle Lösungen auch nach Maß.
Back
Concept
The shelf, the base element, is the result of a complex design involving materials and technologies. Its design comes from a very simple idea: a sheet folded in half and held with light tie cords. This lightness actually hides a very robust system, thanks to the clever engineering and high quality materials.
The storage unit was built to use the shelf element to create a coherent relationship of contemporary communication that can be summarised in aesthetic simplicity, practicality, accessibility and quality details.
The finishes are also an important element that, if combined differently, transform the spirit of the system - even though its aesthetic characteristics remain unchanged. The vast selection of finishes and colours, along with the variety of elements, allow a number of very personal and custom solutions.
Technical information
Back panels, cabinet frames, cabinet tops, shelves, doors and flap doors, drawer facing, sliding doors, glass tops for cabinets, internal shelves, pull-out tray for audio-video cabinet
wood particles panel, MDF wood fibre panel, tempered glass
Frame base, foot base, plinth, fastening rods
steel
Door profiles, door and drawer handle profiles, support bars for shelves and tops, bottom tracks for sliding doors, top tracks for sliding doors, drawer frames, CD/DVD racks, cable raceway
extruded aluminium
Raceways
die-cast aluminium
TV-set back panels, outfitted back panels
thick laminated wood panel
Dimensions & Download
Are You an Architect or a Designer?
Register to the reserved area for moodboards, 2D, 3D, Revit, inspirational images and much more
Colors & Finishes
Designer
Studio Kairos
Founded in 1980, Studio Kairos operates mainly in the field of industrial design and development, as well as architecture and furniture. The inspiration of the projects is stated right from the name: in classical Greek Kairos means right point, right place, right time, right measure. In ancient Greece it was also the concept that defined the manner of operating, of designing.
Kairos was, for instance, the choice of the right place for the construction of a house and, at the same time, the waiting for the right moment to do the works; this balanced combination of place and time guaranteed the right measure, the good result. The studio is formed by Giuseppe Manente and Abramo Mion. Giuseppe Manente was born in Mestre (Venice) in 1947. After having attended the higher course of industrial design, he obtained the architecture degree at Venice university. Since 1973 he has been practising architecture, operating in the civil and industrial construction field for public and private institutions. Abramo Mion was born in Mirano (Venice) in 1951. He attended the engineering faculty at Padova University, and then in the architecture faculty of Venice University. He became part of the design staff of a furniture industry and has since then been concerned with interior architecture.
Studio Kairos collaborates with leading companies and institutions and has received many prestigious awards, including the Compasso d'Oro for the Sisamo wardrobe by B&B Italia (1984).
Discover more