Backstage - Backstage '18 Backstage - Backstage '18
Antonio Citterio
2013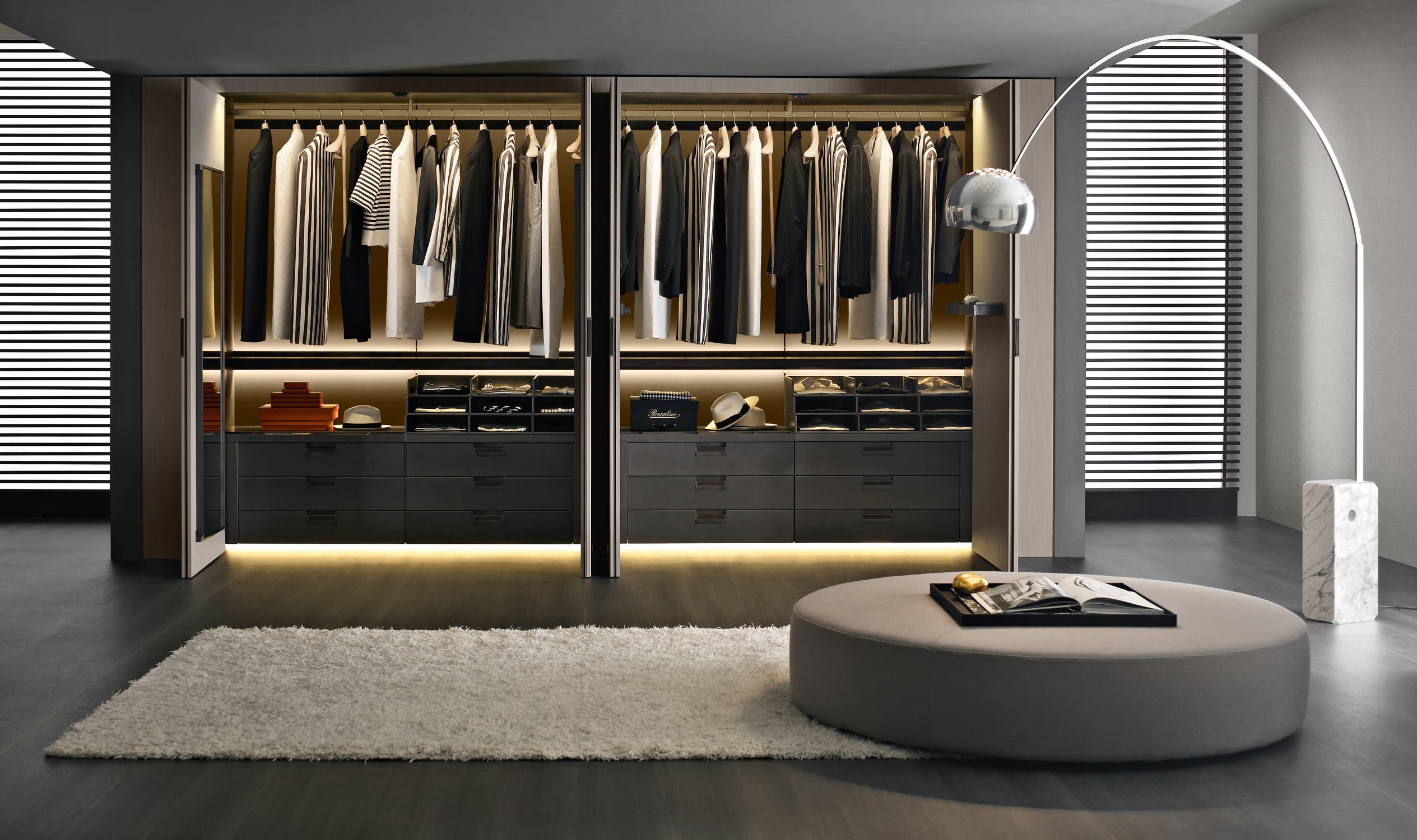 Description
An innovative wardrobe system with a sophisticated personality, Backstage stands out for the use of precious materials, exclusive finishes details, and the wide range of versions available. The door opening system, inspired by contemporary architecture, offers a revolutionary solution: the innovative mechanism developed by B&B Italia opens the full height doors with simultaneous rotation and translation (roto-translation) that ensures reduced bulk and better accessibility to internal compartments. Backstage also proposes an exclusive choice of accessories and fittings that underscore expert craftsmanship and the quality and purity of materials. Highly aesthetic and functional, the boiserie effect of the surfaces allows Backstage to adapt to various spaces, and not only into the bedroom.
Back
Technical information
Side, top, back structure, wardrobe base and internal boiserie panel of the walk-in wardrobe
melamine faced panel in refined wood particles
Skirting frame structure
metal profiles
Swinging-sliding door/Pocket door
honeycomb panel with double tensioner doors inserted inside the frame
Hinged door, closing panel, finish side, boiserie pane
panel in wood particles
Upright
extruded aluminium
Opening mechanism and profiles
extruded aluminium and steel
Shelf
panel in refined wood particles, melamine-faced or lacquered or covered in bonded leather
Drawer structure
panel in wood particles, lacquered wood fibre panel, drawers mounted on total extraction runners with shock absorbers, trinket tray top with insert in bonded leather
Drawer handle
aluminium with insert in bonded leather
Walk-in wardrobe container structure
panel in wood particles
Walk-in wardrobe container hinged door
panel in refined wood particles, lacquered or covered in bonded leather
Clothes rail
extruded aluminium with supports in die-cast Zamak
Hanger holder
shell in plastic and hook in metal
Grid for shirts
panel in wood particles
Internal drawer spacers
bonded leather
Structure with extractable tray
top in tempered smoky glass, HPL stratified laminate panel with aluminium drawer with melamine bottom
Internal divider extractable tray/Accessorised tray
solid wood covered in bonded leather
Internal tray for drawers
multi-layered wood covered in bonded leather
Belt holder
HPL stratified laminate covered in bonded leather and hooks in aluminium
Trinket tray
HPL stratified laminate and wood fibre panel covered in bonded leather
Jewellery box
solid wood and wood fibre panel with ring compartment in bonded leather
Adjustable mirror
extruded aluminium with wood particle panel melamine and natural mirror with safety film
Fixed mirror
extruded aluminium and natural mirror with safety film
Various accessories
beech
LED lighting system
Strip LED 24V DC 4000K
EU/US power supply unit
input voltage 110V-120V/220V-240V 50Hz, output voltage 24V DC, maximum wattage 60W/120W
Proximity sensor switch radio-controlled from a central unit
voltage 24V 50HZ
Dimensions & Download
Are You an Architect or a Designer?
Register to the reserved area for moodboards, 2D, 3D, Revit, inspirational images and much more
Colors & Finishes
Designer
Antonio Citterio
Antonio Citterio was born in Meda (Milano) in 1950, and started his design office in 1972, graduating in architecture at the Politecnico di Milano in 1975. Between 1987 and 1996 he worked in association with Terry Dwan and, together, they designed buildings in Europe and Japan.
In 2000, with Patricia Viel, he founded a practice for architecture and interior design, developing international complex long-term projects, at all scales and in synergy with a qualified network of specialist consultants. The studio has today taken the name of "Antonio Citterio Patricia Viel". Antonio Citterio currently works in the industrial design sector with numerous Italian and foreign companies. In 1987 and in 1994 he was awarded the Compasso d'Oro-ADI. From 2006 to 2016 he has been professor of Architectural Design at the Mendrisio Academy of Architecture (Switzerland). In 2008 he was honoured by the Royal Society for the Encouragement of Arts, Manufactures & Commerce of London, which gave him the title of "Royal Designer for Industry".
Antonio Citterio is art director of Maxalto, Arclinea and Azucena.
Discover more